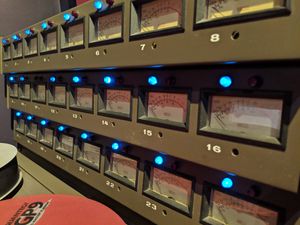 The Tonic Room Recording and Mastering Studios is a unique and comfortable audio production studio located between downtown Boise and the airport. The recording studio is an ideal choice for emerging and established artists.  The 2,500 square foot facility houses a recording studio with a control room, live recording room, two isolation rooms, lounge, kitchenette, and a professional mastering studio.
At the heart of the studio is a 40 input Neve Genesys Black analog console with total recall.  We use the most modern ProTools HDX software (50 inputs, 48 outputs) and 2" analog tape, along with classic analog gear and a large selection of microphones. The studio also has a wide variety of vintage and modern instruments - guitars, amplifiers, bass, drums, keyboards and percussion.  Please have a look around and feel free to contact us if you have questions.   We can assist you in a variety of ways, from pre-production to mastering.   
We are here to help people make great music.