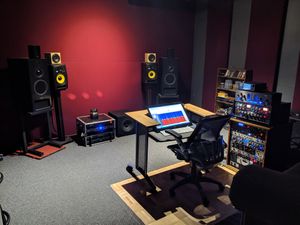 Mastering
is a crucial stage in the production of any single, EP or album. It transforms a collection of songs into a cohesive story. The final result is a quality master recording with dynamics, warmth, and dimension.
 
The Tonic Room Mastering Studio provides fast and reliable mastering, an easy-to-use

SUBMISSION FORM

, online support, and telephone consultation.  You can also deliver your master the old fashioned way, by mailing it or bringing it to the studio. 
 

Our mastering enhances your music, using top-of-the-line equalization, compression, limiting and of course, good judgement. Three-way PMC mastering speakers in a reflection free room ensure we hear every detail. 


 

We provide high-quality mastered track(s) for your review and approval. All our clients receive CD files and the best sounding MP3s files we can make from the master recording. 

For more info about our Online Mastering
For general mastering questions Mastering Questions and Answers

If you are ready to get started, simply:
1.  Fill out the SUBMISSION FORM.
2.  Create a free Drop Box account and upload your final mixes.  Share the folder with mastering@tonicroomstudios.com
3.  Make a 50% deposit (see Rates page).
4.  Receive your first e-mail from the mastering studio with an approximate completion date.
5.  Receive your master.  Once you are satisfied and paid in full, we provide you with CD quality files and the best quality MP3 we can make.  High definition files available upon request.
 
Great care is taken at Tonic Room Mastering in every stage of the mastering process.   We ensure the purest signal integrity and highest product quality.  The result is a sonically pleasing master with consistent dynamics, rich harmonics and ready for duplication.